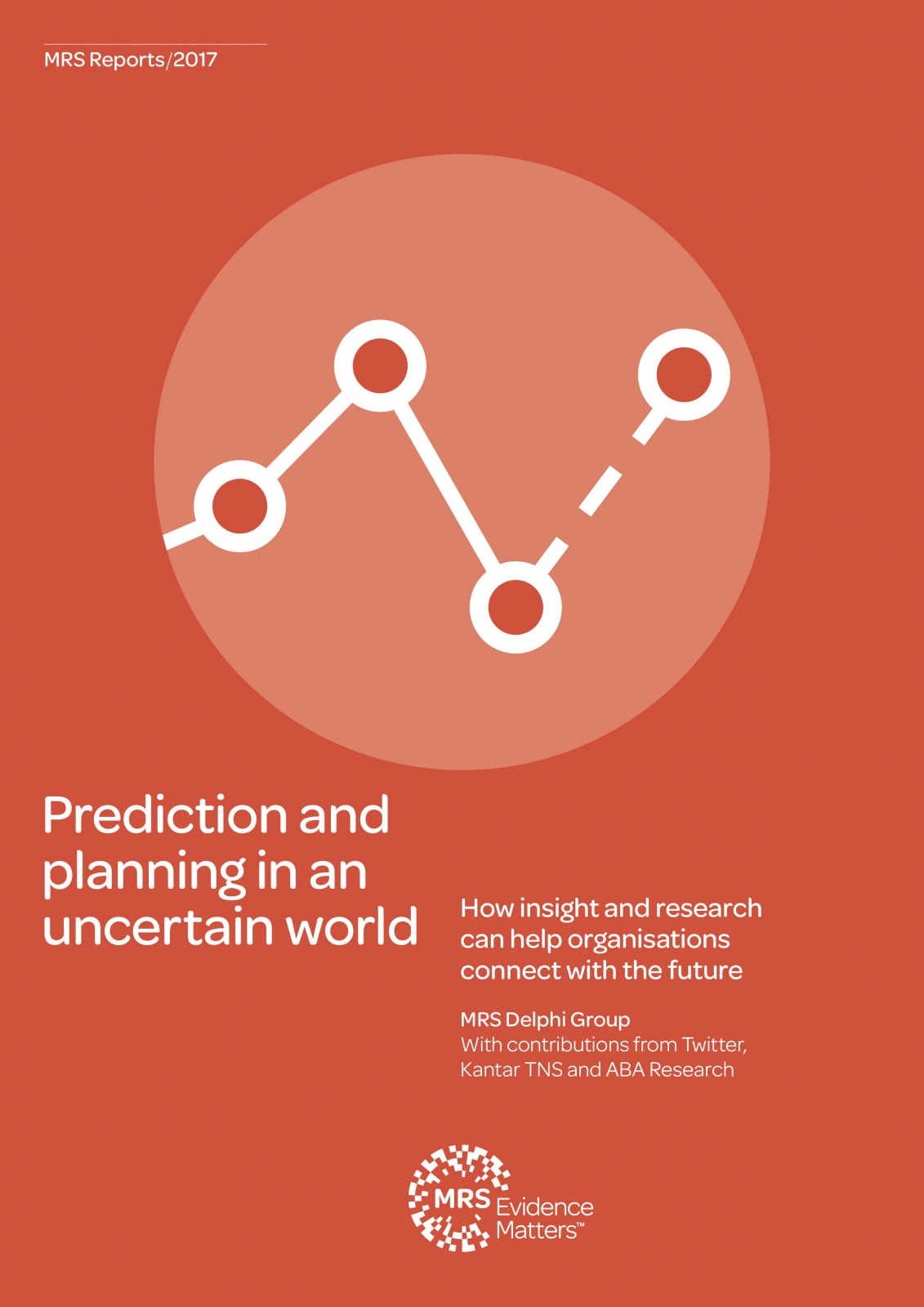 >>The report is available here.
Examining the approaches that produce the most meaningful predictions and how these can be translated into action, the report provides practical guidance on how organisations can avoid the most common pitfalls of planning for future.
Recommendations include an interdisciplinary approach bringing together risk, research, operations and planning functions; a variety of different techniques and indicators rather than over-reliance on a single methodology; transparency on the limitations of indicators and models and a focus on external factors rather than introspection.
The report concludes that most fundamental of all is ensuring that the voice of the consumer – provided and critically analysed by the insight function – is represented and respected throughout.
Prediction and planning in an uncertain world includes a foreword from Jane Frost CBE, Chief Executive of MRS and founder of the MRS Delphi Group, with expert views on the key issues from Jake Steadman, Senior Director of Research, International & Agency at Twitter; Nick Bonney, Managing Director at ABA Research and Phil Sutcliffe, Director of Offer and Innovation at Kantar TNS UK.
These are accompanied by case studies on lessons learned when integrating research and insight into forecasting strategies from Jessica Salmon, head of research at O2, Sarah Bennison, chief marketing officer of Nationwide Building Society and Nick North, director of audiences at the BBC.
Jane Frost CBE, CEO of MRS, said: "Forecasting, trend spotting and future-proofing are perennially on our minds but recent events and the responses to them – two general elections, Brexit and an unprecedented number of terror attacks – have brought the challenges of mapping the future into even sharper focus. I'm delighted to have some of the foremost minds in our sector tackling the issue head on by examining the vital role that insight teams have to play in guiding this process.
"The richness of future proofing will ultimately be in direct correlation to the variety of sources and the diversity of decision-makers involved in the process. Businesses need to be prepared to be surprised as they look to the future – if you don't encounter the unexpected then your process has not been thorough enough. Meaningful forecasting means becoming comfortable – and transparent – about uncertainty: a huge challenge for many and one we hope this report helps to address."